How To Distinguish And Make Sound Decision For Roof Replacement Vs Roof Repairs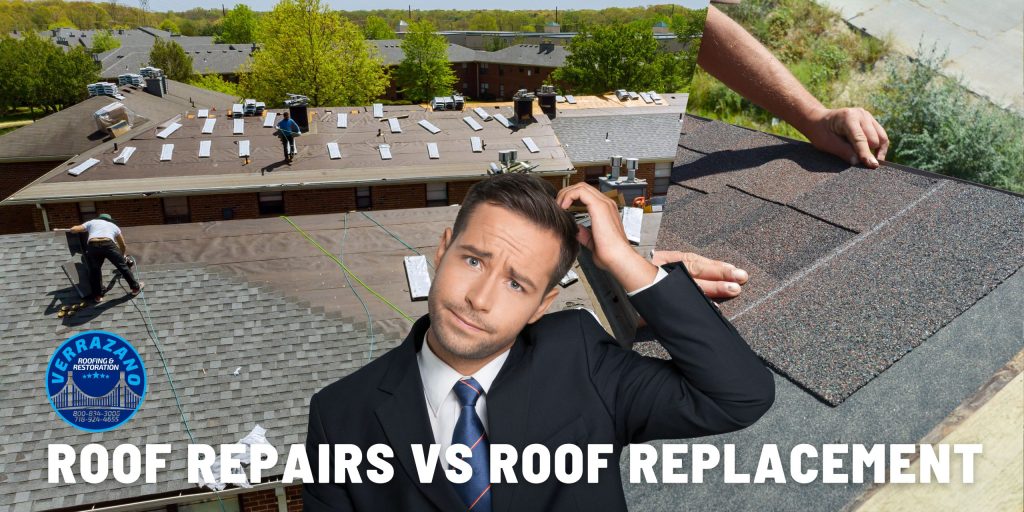 Depending on the extent of the damage, a damaged roof can either be repaired or replaced. As it shields you from the snow, rain, sun, wind, etc.,. The roof is one of the most crucial components of your home or business. Understanding if the roof needs to be repaired or replaced is crucial because there are instances when replacing the roof is the better choice than making regular repairs, which might end up costing you more money over time. However, it is not always necessary to replace the roof; certain problems or damages may be quickly rectified. A roof inspection by a roofing contractor in the USA can be helpful in determining your need for roof repair or replacement.
Considerations for Roof Replacement vs. Repair
Before selecting whether to repair or replace your roof, you should take a few factors into account.
Roof Age:
Knowing the date and kind of roofing material used during installation will help you determine the age of your roof and whether or not it needs to be replaced. You should think about replacing your roof if it is leaking or has storm damage and is beginning to show its age. It is better to replace your outdated and broken roof than to keep having it repaired all the time. If you want to sell the building as well, it could also be helpful.
Leaky Roofs:
One of the most frequent roofing issues that calls for roof replacement or repair is a leak in the roof. If you notice water stains on your ceiling that are also dripping into your walls, the issue may be a leaky roof, which should be remedied as soon as possible because it might cause more damage. The more serious issues like rotted structure, mold, damaged ceilings, broken or damp insulation, or roof sheathing Finding the roof leak may be challenging, but a licensed and skilled roofing contractor in the USA like Naples Roofing can discover it with ease.
The Extent of Damage:
If you've made the decision to either repair or replace your roof, there must have been some indicators of deterioration, appearance, and physical damage in your roof. Choosing a licensed and reputable roofing contractor like Naples Roofing can assist you in understanding and making the best option for your roof, as well as the budget for the necessary roof damage repairs or replacements.
Depending on the roofing material used, damage indications may vary, but they often fall into one of two categories: cosmetic damage or structural damage.
Geographic Region:
One of the most crucial aspects to take into account when determining whether to repair or replace your roof is the location. It's critical to repair missing shingles or other roofing components right away if you reside in a location that is susceptible to hurricanes, hailstorms, or tornadoes in order to avoid future issues like leaky roofs.
Hail and debris damage can compromise the roof's aesthetics, function, and long-term capacity to construct a waterproof roof deck.
Cost of replacing a roof:
Roof replacement may be more expensive than roof repair, but if your roof is always in need of damage repair, you should think about replacing it since it would require less frequent maintenance and would also be an investment against future roofing accidents. Additionally, knowing that your roof is weatherproof will offer you peace of mind.
The best roofing services for residential, commercial, and industrial roofs are offered in the town by us. For all types of roofing services, get in touch right now!