Get Your Roof Repair & Installation Service, By Expert Roofers In Clinton Hill, NY, 11238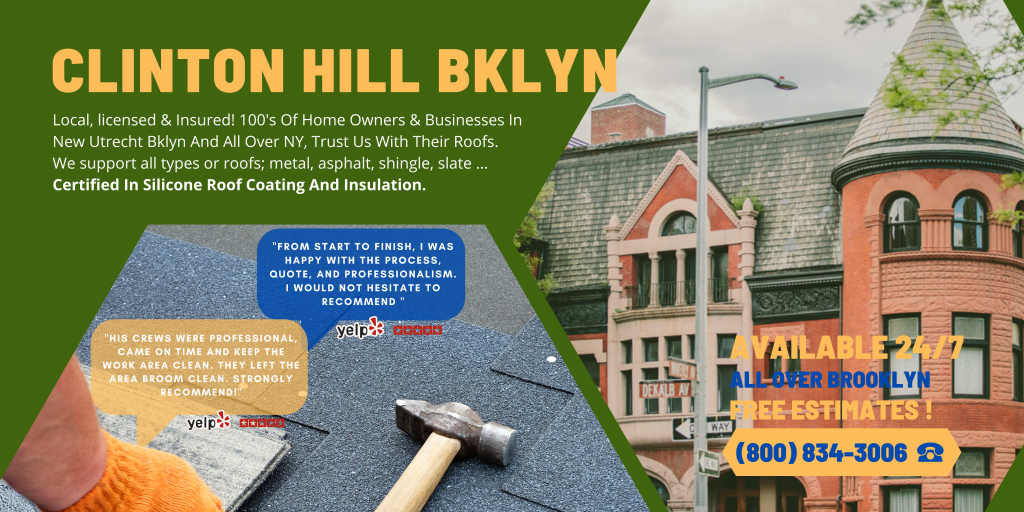 Do you want to hire talented and seasoned roofers in Clinton Hill in Brooklyn? If you're searching for capable roofing contractors in this neighborhood, you can breathe a nice and long sigh of relief. That's because you can always count on the team here at Verrazano Roofing & Restoration. We're a full-service roofing company that does it all for our customers. We offer in-depth roof repairs, first of all. We offer roof installation as well. If you're annoyed by a significant roof water leak, we can serve you. If you want to replace a fatigued and damaged old roofing system, we can serve you, too.
Our masterful roofers regularly assist customers with everything from missing shingles to sagging decks. If you notice anything out of the ordinary with your roofing system deck in Clinton Hill, tell us that. If you have lost shingles, let us know, pronto. The sooner you address roofing problems, the sooner things can get back to normal for you.
Complete Roofing Solutions Residential & Commercial, All Over Clinton Hill & Brooklyn
We're proud to say that we present our customers with all sorts of options in commercial and residential roofing solutions. We tackle all sorts of business and home roofing system requests in Clinton Hill. We tackle these kinds of requests all throughout Brooklyn as a whole as well. Do you want to replace the roofing system of your family business in Clinton Hill? Drop our company a line. Do you want yearly roofing maintenance service for your cozy residential property in the same community? We're more than looking forward to hearing from you.
Remember, there are truly no roofing system topics that are out of reach for our dedicated, hard-working and knowledgeable team members. We enthusiastically aid our customers with slate roofs, metal roofs and flat roofs galore. We aid customers with all kinds of silicone roof coating requests. If you're on the lookout for professionals who know about all kinds of sturdy and dependable roofing system materials, all you have to do is contact our detail-oriented and courteous staff.
Emergency Roofing Repairs Clinton Hill
Dealing with roofing system emergencies can be quite a dilemma. Our company, however, makes it a lot easier for customers in Clinton Hill and Brooklyn. If you discover an urgent and frustrating roof concern at midnight in Clinton Hill, your greatest bet is to call our company for our round-the-clock assistance. We're open 24 hours a day, seven days a week to assist our customers with home and business roofing troubles that just cannot wait. We take care of persistent water leaks, weather damage and much more. If you're searching for emergency roofing assistance that's punctual, comprehensive and dependable, you need to contact Verrazano Roofing & Restoration. Call our pleasant, welcoming and skilled team now for more information about our plentiful roofing specialties. Call us now to set up an appointment with our licensed company.
Useful Local Resources