Get Your Roof Repair & Installation Service, By Expert Roofers In Brooklyn, NY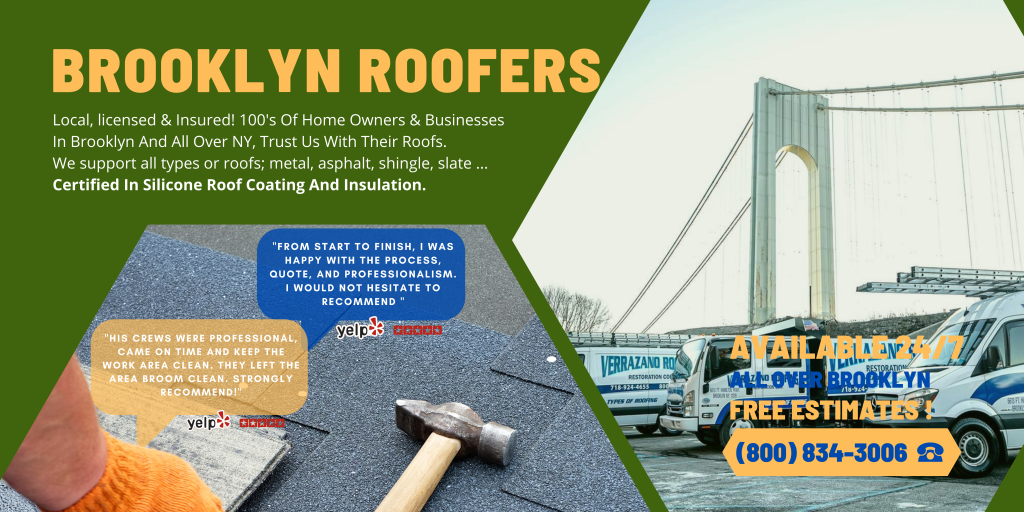 Hiring the best roofing repair service company is a daunting and overwhelming task, especially if you are not familiar with the standards of the roofing industry. It can be very challenging because residential roofing encompasses a wide range of skills and knowledge related to home structures not only roofs. During the hiring process there are certain factors will save your time and effort in finding the best experts for your home or business.
Your roof is the most important part of your home, and if you don't take care of it, it could cause serious problems down the line. Your roof protects your home from all sorts of damages, so if it isn't in good condition, you need to get it repaired without delays.
A damaged roof can cause problems for everything from attic ventilation to electrical wiring. In severe cases, it can even lead to a fire! Here are some of the problems that could occur if you put off repairing your roof:
Poor attic ventilation: A poorly ventilated attic can cause damage to your roof due to heat buildup. This also makes your home less energy-efficient.
Water damage: If water gets under shingles or between cracks in tiles, it can cause major problems with mold, mildew, and rot. You should have professionals come out every few years to make sure there aren't any leaks in your roof that are causing this kind of damage inside walls or ceilings.
Electrical issues: If your house doesn't have proper ventilation or insulation because its roof needs repairs done urgently, then it will be harder for electricity from outside lights or appliances inside the home to run smoothly through wires running through an area where moisture buildup.
We have years of experience in the roofing industry, so you can rest assured that we'll be able to handle all your roof needs. We are licensed and insured to provide all types of roofing services, including new construction or repair jobs on residential homes and commercial buildings. We also offer emergency repairs if needed within 24 hours! Whether it's just one small leak or something more serious like a damaged section of shingles that needs replacing due to hail damage, Our team will come out within the hour to avoid any further complication to your roof.
Complete Roofing Solutions Residential & Commercial, All Over Brooklyn & Brooklyn
Verrazano Roofing LLP is a reliable roofer in Brooklyn, New York. We have provided roof installation and repair services for businesses and homes in Brooklyn for the past 20 years! We are licensed and insured.
At Verrazano Roofing we provide a complete range of roofing installation, repair, and maintenance services to homes and business owners in Brooklyn area. With skills, experience, and a commitment to customer satisfaction, our entire staff is dedicated to providing you with the best possible service available at reasonable rates.
Whether you have a new roof installation project on sight, or need emergency repairs done at your place of business, our contractors are always available and up to the task. We will work with you to develop a personalized plan that meets your budget and suits your needs. We are truly dedicated to providing all of our customers with top-notch, durable roofing solutions, quality and care guaranteed, at competitive prices. So you can upgrade your home without breaking the bank.
Emergency Roofing Repairs Brooklyn
We know your building's safety is a top priority, and when you need it protected from the elements quickly and efficiently, we are the ones to call. We've been in business for over 23 years, so we have the experience to ensure that your job is done correctly and safely.
When you have an emergency-such as a fallen tree or storm damage-we are available 24 hours a day to help you assess the damage and determine what repairs will be needed. Then our team of experts gets to work promptly on repairing your roof so that you can rest easy knowing that your building is protected again. And because we care about our community and want everyone here to feel safe at home, if it's after hours and something happens while we're not around (like a fire), we'll still come out right away no matter what time!
We offer emergency roofing repairs in Brooklyn and throughout New York City, specializing in flat roofs. We can handle all of your roofing needs, including new construction, roof repair, skylights, etc. Roof leaks are annoying and have the potential to cause major damage to your home or building.
If you are looking for the best roofers in Brooklyn, NY, we are here to provide high-quality services. Our team of experts has years of experience and the knowledge and skills to handle any job. We can repair any roofing material, including asphalt shingles, metal panels, clay tiles, etc. We also offer installation services for all your needs. Call us today when you want your work done right the first time! (718) 924-4655/(800) 834-3006.
We Service Brooklyn And The Entire NYC, 24/7
Useful Local Resources